The Academy
The Classroom is our Launchpad!
ISD welcomed its first class in 1999-2000.
Since then our world has seen massive changes, not least in the fields of science and technology, but also education.
The changes happening "out there" — beyond the school walls — are impacting the teaching and learning happening within. Schools cannot be static, to cling to outdated models for fear of change, if they want to give their students the best chance at a prosperous, fulfilling life.
The value of our academy is found in our teacher-student learning relationships. We believe in educating the whole child, one who has developed intellectually, morally, aesthetically, and physically, with teaching that's balanced, dynamic, and adaptable to change.
Our teachers, like our students, are lifelong learners. Facilitators, not dictators. Fully qualified, with many having a master's degree. ISD teachers represent many countries and, along with classroom teaching assistants, set a course for the highest standards.
We are the only full IB (International Baccalaureate) school in Bangladesh.
The IB is an internationally recognized and lauded framework on which our teaching and learning is built. The IB Learner Profile is at the heart of our curriculum. ISD offers the PYP (Primary Years Programme), MYP (Middle Years Programme), and DP (Diploma Programme) for students aged 2 to 19. Learning happens in the purpose-built Early Years, Elementary, and Secondary buildings.
WHAT IS THE IB LEARNER PROFILE?
LEARN MORE ABOUT THE IB AND ITS PROGRAMMES AT IBO.ORG [CLICK Here]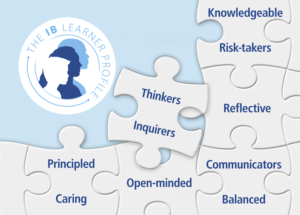 Students immersed in experiential learning (by doing and then reflecting) build their critical thinking ability, confidence, reasoning, and capacity to determine and solve problems. They develop self-motivation, compassion, resilience, adaptability, and empathy. These traits and soft skills are cherished and valuable — increasingly so — not only in the contexts of school and workplace, but also in personal relationships.
Learning extends into our co-curricular and community service programmes. From the strategies of the chess board to the mysteries of the guitar fretboard, from teaching football to disadvantaged children or acting in a play, students at ISD have many options to expand their knowledge while having fun and contributing to the community.
ISD is a member school of Next Frontier Inclusion. The initiative calls for inclusive international education to ensure that all students have the same educational opportunities. At all grade levels, our Advancement Centre supports the inclusion of students with individual learning needs. As well, we offer EAL (English as an Additional Language) support at all grades.
We began with a vision to be the best K-12 international school in Bangladesh.
We're getting closer.
Come see for yourself.